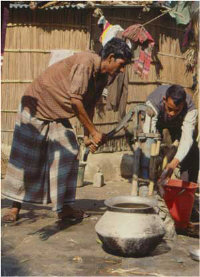 Europeans began to set up trading posts in the area of Bangladesh in the 16th century; eventually the British came to dominate the region and it became part of British India. In 1947, West Pakistan and East Bengal (both primarily Muslim) separated from India (largely Hindu) and jointly became the new country of Pakistan. East Bengal became East Pakistan in 1955, but the awkward arrangement of a two-part country with its territorial units separated by 1,600 km left the Bengalis marginalized and dissatisfied. East Pakistan seceded from its union with West Pakistan in 1971 and was renamed Bangladesh. A military-backed caretaker regime suspended planned parliamentary elections in January 2007 in an effort to reform the political system and root out corruption; the regime has pledged new democratic elections by the end of 2008. About a third of this extremely poor country floods annually during the monsoon rainy season, hampering economic development.
Geography of Bangladesh
Location:

Southern Asia, bordering the Bay of Bengal, between Burma and India

Coordinates:

24 00 N, 90 00 E

Area:

total: 144,000 sq km
land: 133,910 sq km
water: 10,090 sq km

Area comparative:

slightly smaller than Iowa

Land boundaries:

total: 4,246 km
border countries: Burma 193 km, India 4,053 km

Coastline:

580 km

Maritime claims:

contiguous zone: 18 NM
territorial sea: 12 NM
continental shelf: up to the outer limits of the continental margin
exclusive economic zone: 200 NM

Climate:

tropical; mild winter (October to March); hot, humid summer (March to June); humid, warm rainy monsoon (June to October)

Terrain:

mostly flat alluvial plain; hilly in southeast

Elevation extremes:

lowest point: Indian Ocean 0 m
highest point: Keokradong 1,230 m

Natural resources:

natural gas, arable land, timber, coal

Natural hazards:

droughts, cyclones; much of the country routinely inundated during the summer monsoon season

Environment - current issues:

many people are landless and forced to live on and cultivate flood-prone land; water-borne diseases prevalent in surface water; water pollution, especially of fishing areas, results from the use of commercial pesticides; ground water contaminated by naturally occurring arsenic; intermittent water shortages because of falling water tables in the northern and central parts of the country; soil degradation and erosion; deforestation; severe overpopulation

Geography - note:

most of the country is situated on deltas of large rivers flowing from the Himalayas: the Ganges unites with the Jamuna (main channel of the Brahmaputra) and later joins the Meghna to eventually empty into the Bay of Bengal
Population of Bangladesh
Population:

153,546,896 (July 2008 est.)

Age structure:

0-14 years: 33.4% (male 26,364,370/female 24,859,792)
15-64 years: 63.1% (male 49,412,903/female 47,468,013)
65 years and over: 3.5% (male 2,912,321/female 2,529,502)

Median age:

22.8 years

Infant mortality:

57.45 deaths/1,000 live births

Life expectancy at birth:

total population: 63.21 years
male: 63.14 years
female: 63.28 years

Total fertility rate:

3.08 children born/woman

Nationality:

noun: Bangladeshi(s)
adjective: Bangladeshi

Ethnic groups:

Bengali 98%, tribal groups, non-Bengali Muslims

Religions:

Muslim 83%, Hindu 16%, other 1%

Languages:

Bangla (official, also known as Bengali), English

Literacy:

definition: age 15 and over can read and write
total population: 43.1%
male: 53.9%
female: 31.8%
Government
Country name:

conventional long form: People's Republic of Bangladesh
former: East Pakistan

Government type:

parliamentary democracy

Capital:

Dhaka

Administrative divisions:

6 divisions; Barisal, Chittagong, Dhaka, Khulna, Rajshahi, and Sylhet

Independence:

16 December 1971 (from West Pakistan); note - 26 March 1971 is the date of independence from West Pakistan, 16 December 1971 is known as Victory Day and commemorates the official creation of the state of Bangladesh

National holiday:

Independence Day, 26 March (1971); note - 26 March 1971 is the date of independence from West Pakistan, 16 December 1971 is Victory Day and commemorates the official creation of the state of Bangladesh

Constitution:

4 November 1972, effective 16 December 1972, suspended following coup of 24 March 1982, restored 10 November 1986, amended many times

Legal system:

based on English common law

Suffrage:

18 years of age; universal

Executive branch:

chief of state: President Iajuddin AHMED (since 6 September 2002)
note: the country has a caretaker government until a general election is held; Iajuddin AHMED remains as President and Minister of Defense, and all other Cabinet portfolios are held by Caretaker Advisers (CAs); the Chief CA, Fakhruddin AHMED, is roughly equivalent to a prime minister
elections: president elected by National Parliament for a five-year term (eligible for a second term); election scheduled for 16 September 2002 was not held since Iajuddin AHMED was the only presidential candidate; he was sworn in on 6 September 2002 (next election NA); following legislative elections, the leader of the party that wins the most seats is usually appointed prime minister by the president
election results: Iajuddin AHMED declared president-elect by the Election Commission; he ran unopposed as president

Legislative branch:

unicameral National Parliament or Jatiya Sangsad; 300 seats elected by popular vote from single territorial constituencies (the constitutional amendment reserving 30 seats for women over and above the 300 regular parliament seats expired in May 2001); members serve five-year terms

Judicial branch:

Supreme Court (the chief justices and other judges are appointed by the president)
Economy
The economy has grown 5-6% over the past few years despite inefficient state-owned enterprises, delays in exploiting natural gas resources, insufficient power supplies, and slow implementation of economic reforms. Bangladesh remains a poor, overpopulated, and inefficiently-governed nation. Although more than half of GDP is generated through the service sector, nearly two-thirds of Bangladeshis are employed in the agriculture sector, with rice as the single-most-important product. Garment exports and remittances from Bangladeshis working overseas, mainly in the Middle East and East Asia, fuel economic growth.
GDP:

$208.3 billion (2007 est.)

GDP growth rate:

6.3%

GDP per capita:

$1,400

GDP composition by sector:

agriculture: 19%
industry: 28.7%
services: 52.3%

Labor force:

66.6 million
note: extensive export of labor to Saudi Arabia, Kuwait, UAE, Oman, Qatar, and Malaysia; workers' remittances estimated at $1.71 billion in 1998-99

Labor force by occupation:

agriculture: 63%
industry: 11%
services: 26%

Unemployment:

2.5% (includes underemployment)

Budget:

revenues: $5.993 billion
expenditures: $8.598 billion

Industries:

cotton textiles, jute, garments, tea processing, paper newsprint, cement, chemical fertilizer, light engineering, sugar

Electricity production by source:

fossil fuel: 93.7%
hydro: 6.3%
nuclear: 0%
other: 0%

Agriculture:

rice, jute, tea, wheat, sugarcane, potatoes, tobacco, pulses, oilseeds, spices, fruit; beef, milk, poultry

Exports:

garments, jute and jute goods, leather, frozen fish and seafood

Export partners:

US 24.2%, Germany 13.2%, UK 10.6%, France 6%

Imports:

machinery and equipment, chemicals, iron and steel, textiles, foodstuffs, petroleum products, cement

Import partners:

India 14.7%, China 14.6%, Kuwait 8%, Singapore 6%, Japan 4.4%, Hong Kong 4.1%

Economic aid recipient:

$1.575 billion

Currency:

taka (BDT)
SOURCES: The CIA World Factbook, U.S. Department of State, Area Handbook of the US Library of Congress
Copyright 2004 - 2008 worldfacts.us