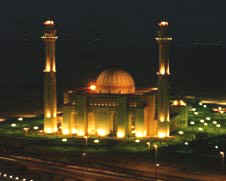 In 1783, the al-Khalifa family captured Bahrain from the Persians. In order to secure these holdings, it entered into a series of treaties with the UK during the 19th century that made Bahrain a British protectorate. The archipelago attained its independence in 1971. Bahrain's small size and central location among Persian Gulf countries require it to play a delicate balancing act in foreign affairs among its larger neighbors. Facing declining oil reserves, Bahrain has turned to petroleum processing and refining and has transformed itself into an international banking center. King HAMAD bin Isa al-Khalifa, after coming to power in 1999, pushed economic and political reforms to improve relations with the Shi'a community. Shi'a political societies participated in 2006 parliamentary and municipal elections. Al Wifaq, the largest Shi'a political society, won the largest number of seats in the elected chamber of the legislature. However, Shi'a discontent has resurfaced in recent years with street demonstrations and occasional low-level violence.
Geography of Bahrain
Location:

Middle East, archipelago in the Persian Gulf, east of Saudi Arabia

Coordinates:

26 00 N, 50 33 E

Area:

total: 665 sq km
water: 0 sq km
land: 665 sq km

Area comparative:

3.5 times the size of Washington, DC

Land boundaries:

0 km

Coastline:

161 km

Maritime claims:

contiguous zone: 24 NM
territorial sea: 12 NM
continental shelf: extending to boundaries to be determined

Climate:

arid; mild, pleasant winters; very hot, humid summers

Terrain:

mostly low desert plain rising gently to low central escarpment

Elevation extremes:

lowest point: Persian Gulf 0 m
highest point: Jabal ad Dukhan 122 m

Natural resources:

oil, associated and nonassociated natural gas, fish, pearls

Natural hazards:

periodic droughts; dust storms

Environment - current issues:

desertification resulting from the degradation of limited arable land, periods of drought, and dust storms; coastal degradation (damage to coastlines, coral reefs, and sea vegetation) resulting from oil spills and other discharges from large tankers, oil refineries, and distribution stations; lack of freshwater resources, groundwater and seawater are the only sources for all water needs

Geography - note:

close to primary Middle Eastern petroleum sources; strategic location in Persian Gulf, which much of Western world's petroleum must transit to reach open ocean
Population of Bahrain
Population:

718,306
note: includes 235,108 non-nationals (July 2008 est.)

Age structure:

0-14 years: 26.4% (male 95,709/female 93,747)
15-64 years: 69.8% (male 288,957/female 212,706)
65 years and over: 3.8% (male 14,224/female 12,963)

Median age:

29.9 years

Infant mortality:

15.64 deaths/1,000 live births

Life expectancy at birth:

total population: 74.92 years
male: 72.41 years
female: 77.5 years

Total fertility rate:

2.53 children born/woman

Nationality:

noun: Bahraini(s)
adjective: Bahraini

Ethnic groups:

Bahraini 63%, Asian 19%, other Arab 10%, Iranian 8%

Religions:

Muslim (Shi'a and Sunni) 81.2%, Christian 9%, other 9.8%

Languages:

Arabic, English, Farsi, Urdu

Literacy:

definition: age 15 and over can read and write
total population: 89.1%
male: 91.9%
female: 85%
Government
Country name:

conventional long form: Kingdom of Bahrain
conventional short form: Bahrain
local short form: Al Bahrayn
former: Dilmun
local long form: Mamlakat al Bahrayn

Government type:

constitutional hereditary monarchy

Capital:

Manama

Administrative divisions:

12 municipalities (manatiq, singular - mintaqah); Al Hadd, Al Manamah, Al Mintaqah al Gharbiyah, Al Mintaqah al Wusta, Al Mintaqah ash Shamaliyah, Al Muharraq, Ar Rifa' wa al Mintaqah al Janubiyah, Jidd Hafs, Madinat Hamad, Madinat 'Isa, Juzur Hawar, Sitrah
note: all municipalities administered from Manama

Independence:

15 August 1971 (from UK)

National holiday:

National Day, 16 December (1971); note - 15 August 1971 is the date of independence from the UK, 16 December 1971 is the date of independence from British protection

Constitution:

adopted late December 2000; Bahrani voters approved on 13-14 February 2001 a referendum on legislative changes (revised constitution calls for a partially elected legislature, a constitutional monarchy, and an independent judiciary)

Legal system:

based on Islamic law and English common law

Suffrage:

18 years of age; universal

Executive branch:

chief of state: King HAMAD bin Isa al-Khalifa (since 6 March 1999); Heir Apparent Crown Prince SALMAN bin Hamad (son of the monarch, born 21 October 1969)
head of government: Prime Minister KHALIFA bin Salman al-Khalifa (since 1971); Deputy Prime Ministers ALI bin Khalifa bin Salman al-Khalifa, MUHAMMAD bin Mubarak al-Khalifa, Jawad al-ARAIDH
cabinet: Cabinet appointed by the monarch
elections: the monarchy is hereditary; prime minister appointed by the monarch

Legislative branch:

bicameral Parliament consists of Shura Council (40 members appointed by the King) and House of Deputies (40 members directly elected to serve four-year terms)

Judicial branch:

High Civil Appeals Court
Economy
With its highly developed communication and transport facilities, Bahrain is home to numerous multinational firms with business in the Gulf. Petroleum production and refining account for over 60% of Bahrain's export receipts, over 70% of government revenues, and 11% of GDP (exclusive of allied industries), underpinning Bahrain's strong economic growth in recent years. Aluminum is Bahrain's second major export after oil. Other major segments of Bahrain's economy are the financial and construction sectors. Bahrain is focused on Islamic banking and is competing on an international scale with Malaysia as a worldwide banking center. Bahrain is actively pursuing the diversification and privatization of its economy to reduce the country's dependence on oil. As part of this effort, in August 2006 Bahrain and the US implemented a Free Trade Agreement (FTA), the first FTA between the US and a Gulf state. Continued strong growth hinges on Bahrain's ability to acquire new natural gas supplies as feedstock to support its expanding petrochemical and aluminum industries. Unemployment, especially among the young, and the depletion of oil and underground water resources are long-term economic problems.
GDP:

$24.01 billion (2007 est.)

GDP growth rate:

6.7%

GDP per capita:

$33,900

GDP composition by sector:

agriculture: 0.5%
industry: 38.7%
services: 60.8%

Inflation rate:

3.3%

Labor force:

380,000
note: 44% of the population in the 15-64 age group is non-national

Labor force - by occupation:

agriculture: 1%
industry: 79%
services: 20%

Unemployment:

15%

Electricity production by source:

fossil fuel: 100%
hydro: 0%
other: 0%

Industries:

petroleum processing and refining, aluminum smelting, offshore banking, ship repairing; tourism

Agriculture:

fruit, vegetables; poultry, dairy products; shrimp, fish

Exports:

petroleum and petroleum products, aluminum, textiles

Export partners:

Saudi Arabia 3%, US 2.5%, UAE 2.2%

Imports:

crude oil, machinery, chemicals

Import partners:

Saudi Arabia 37.9%, Japan 7.2%, US 6.3%, Germany 4.7%, UK 4.5%, UAE 4.3%, China 4.1%

Currency:

Bahraini dinar (BHD)
SOURCES: The CIA World Factbook, U.S. Department of State, Area Handbook of the US Library of Congress
Copyright 2004 - 2008 worldfacts.us