World Facts Index > Australia > Adelaide, Brisbane, Canberra, Hobart, Melbourne, Perth, Sydney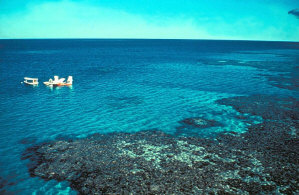 Aboriginal settlers arrived on the continent from Southeast Asia about 40,000 years before the first Europeans began exploration in the 17th century. No formal territorial claims were made until 1770, when Capt. James COOK took possession in the name of Great Britain. Six colonies were created in the late 18th and 19th centuries; they federated and became the Commonwealth of Australia in 1901. The new country took advantage of its natural resources to rapidly develop agricultural and manufacturing industries and to make a major contribution to the British effort in World Wars I and II. In recent decades, Australia has transformed itself into an internationally competitive, advanced market economy. It boasted one of the OECD's fastest growing economies during the 1990s, a performance due in large part to economic reforms adopted in the 1980s. Long-term concerns include climate-change issues such as the depletion of the ozone layer and more frequent droughts, and management and conservation of coastal areas, especially the Great Barrier Reef.
Geography of Australia
Location:

Oceania, continent between the Indian Ocean and the South Pacific Ocean

Coordinates:

27 00 S, 133 00 E

Area:

total: 7,686,850 sq km
water: 68,920 sq km
note: includes Lord Howe Island and Macquarie Island
land: 7,617,930 sq km

Area comparative:

slightly smaller than the US contiguous 48 states

Land boundaries:

0 km

Coastline:

25,760 km

Maritime claims:

contiguous zone: 24 NM
territorial sea: 12 NM
exclusive economic zone: 200 NM
continental shelf: 200 NM or to the edge of the continental margin

Climate:

generally arid to semiarid; temperate in south and east; tropical in north

Terrain:

mostly low plateau with deserts; fertile plain in southeast

Elevation extremes:

lowest point: Lake Eyre -15 m
highest point: Mount Kosciuszko 2,229 m

Natural resources:

bauxite, coal, iron ore, copper, tin, gold, silver, uranium, nickel, tungsten, mineral sands, lead, zinc, diamonds, natural gas, petroleum

Natural hazards:

cyclones along the coast; severe droughts; forest fires

Environment - current issues:

soil erosion from overgrazing, industrial development, urbanization, and poor farming practices; soil salinity rising due to the use of poor quality water; desertification; clearing for agricultural purposes threatens the natural habitat of many unique animal and plant species; the Great Barrier Reef off the northeast coast, the largest coral reef in the world, is threatened by increased shipping and its popularity as a tourist site; limited natural fresh water resources

Geography - note:

world's smallest continent but sixth-largest country; population concentrated along the eastern and southeastern coasts; regular, tropical, invigorating, sea breeze known as "the Doctor" occurs along the west coast in the summer
Population of Australia
Population:

21,007,310 (July 2008 est.)

Age structure:

0-14 years: 18.8% (male 2,022,151/female 1,919,002)
15-64 years: 67.9% (male 7,233,555/female 7,038,722)
65 years and over: 13.3% (male 1,266,166/female 1,527,714)

Median age:

total: 37.1 years
male: 36.4 years
female: 37.9 years

Growth rate:

0.9% (2004 est.), .85% (2006 est.), 1.221% (2008 est.)

Birth rate:

12.4 births/1,000

Death rate:

7.38 deaths/1,000

Net migration rate:

3.98 migrant(s)/1,000

Infant mortality:

total: 4.63 deaths/1,000 live births
male: 5.02 deaths/1,000 live births
female: 4.22 deaths/1,000 live births (2006 est.)

Life expectancy at birth:

total population: 81.53 years
male: 79.16 years
female: 84.02 years

Total fertility rate:

1.78 children born/woman

Nationality:

noun: Australian(s)
adjective: Australian

Ethnic groups:

Caucasian 92%, Asian 7%, aboriginal and other 1%

Religions:

Anglican 26.1%, Roman Catholic 26%, other Christian 24.3%, non-Christian 11%, other 12.6%

Languages:

English, native languages

Literacy:

definition: age 15 and over can read and write
total population: 99%
Government
Country name:

conventional long form: Commonwealth of Australia

Government type:

democratic, federal-state system recognizing the British monarch as sovereign

Capital:

Canberra

Administrative divisions:

6 states and 2 territories*; Australian Capital Territory*, New South Wales, Northern Territory*, Queensland, South Australia, Tasmania, Victoria, Western Australia

Dependent areas:

Ashmore and Cartier Islands, Christmas Island, Cocos (Keeling) Islands, Coral Sea Islands, Heard Island and McDonald Islands, Norfolk Island

Independence:

1 January 1901 (federation of UK colonies)

National holiday:

Australia Day, 26 January (1788)

Constitution:

9 July 1900, effective 1 January 1901

Legal system:

based on English common law; accepts compulsory ICJ jurisdiction, with reservations

Suffrage:

18 years of age; universal and compulsory

Executive branch:

chief of state: Queen of Australia ELIZABETH II (since 6 February 1952); represented by Governor General Quentin BRYCE (since 5 September 2008)
head of government: Prime Minister Kevin RUDD (since 3 December 2007); Deputy Prime Minister Julia GILLARD (since 3 December 2007)
cabinet: prime minister nominates, from among members of Parliament, candidates who are subsequently sworn in by the governor general to serve as government ministers
elections: the monarch is hereditary; governor general appointed by the monarch on the recommendation of the prime minister; following legislative elections, the leader of the majority party or leader of a majority coalition is sworn in as prime minister by the governor general

Legislative branch:

bicameral Federal Parliament consists of the Senate (76 seats - 12 from each of the six states and 2 from each of the two mainland territories; one-half of state members are elected every three years by popular vote to serve six-year terms while all territory members are elected every three years) and the House of Representatives (150 seats; members elected by popular preferential voting to serve terms of up to three-years; no state can have fewer than 5 representatives)

Judicial branch:

High Court (the chief justice and six other justices are appointed by the governor general)
Economy
Australia has an enviable, strong economy with a per capita GDP on par with the four dominant West European economies. Robust business and consumer confidence and high export prices for raw materials and agricultural products are fueling the economy, particularly in mining states. Australia's emphasis on reforms, low inflation, a housing market boom, and growing ties with China have been key factors behind the economy's 16 solid years of expansion. Drought, robust import demand, and a strong currency have pushed the trade deficit up in recent years, while infrastructure bottlenecks and a tight labor market are constraining growth in export volumes and stoking inflation. Australia's budget has been in surplus since 2002 due to strong revenue growth.
GDP:

$640.1 billion (2005 est.), $773 billion (2007 est.)

GDP growth rate:

2.8% (2003 est.), 2.5% (2005 est.), 4.3% (2007 est.)

GDP per capita:

$37,300

GDP composition by sector:

agriculture: 3%
industry: 26.4%
services: 70.6%

Household income or consumption by percentage share:

lowest 10%: 2%
highest 10%: 25.4% (1994)

Distribution of family income - Gini index:

35.2 (1994)

Inflation rate:

2.7% (2003 est.), 2.3% (2007 est.)

Labor force:

10.42 million (2005 est.), 10.95 million (2007 est.)

Labor force - by occupation:

agriculture: 3.6%
industry: 21.2%
services: 75.2% (2004 est.)

Unemployment:

6.1% (2003), 5.1% (2005 est.), 4.4% (2007 est.)

Budget:

revenues: $321.9 billion
expenditures: $315.8 billion (2007 est.)

Industries:

mining, industrial and transportation equipment, food processing, chemicals, steel, tourism

Electricity production by source:

fossil fuel: 90.8%
hydro: 8.3%
other: 0.9% (2001)
nuclear: 0%

Agriculture:

wheat, barley, sugarcane, fruits; cattle, sheep, poultry

Exports:

coal, gold, meat, wool, alumina, iron ore, wheat, machinery and transport equipment

Export partners:

Japan 19.1%, China 14.7%, South Korea 8%, India 5.9%, US 5.8%, NZ 5.2% (2007)

Imports:

machinery and transport equipment, computers and office machines, telecommunication equipment and parts; crude oil and petroleum products

Import partners:

China 14.3%, US 12.9%, Japan 9.6%, Singapore 6.1%, Germany 5.2%, UK 4.4%, Thailand 4% (2007)

Currency:

Australian dollar (AUD)
SOURCES: The CIA World Factbook, U.S. Department of State, Area Handbook of the US Library of Congress
Copyright 2004 - 2008 worldfacts.us