World Facts Index > Argentina > Buenos Aires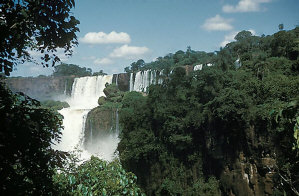 In 1816, the United Provinces of the Rio Plata declared their independence from Spain. After Bolivia, Paraguay, and Uruguay went their separate ways, the area that remained became Argentina. The country's population and culture were heavily shaped by immigrants from throughout Europe, but most particularly Italy and Spain, which provided the largest percentage of newcomers from 1860 to 1930. Up until about the mid-20th century, much of Argentina's history was dominated by periods of internal political conflict between Federalists and Unitarians and between civilian and military factions. After World War II, an era of Peronist authoritarian rule and interference in subsequent governments was followed by a military junta that took power in 1976. Democracy returned in 1983, and has persisted despite numerous challenges, the most formidable of which was a severe economic crisis in 2001-02 that led to violent public protests and the resignation of several interim presidents. The economy has recovered strongly since bottoming out in 2002.
Geography of Argentina
Location:

Southern South America, bordering the South Atlantic Ocean, between Chile and Uruguay

Coordinates:

34 00 S, 64 00 W

Area:

total: 2,766,890 sq km
land: 2,736,690 sq km
water: 30,200 sq km

Area comparative:

slightly less than three-tenths the size of the US

Land boundaries:

total: 9,665 km
border countries: Bolivia 832 km, Brazil 1,224 km, Chile 5,150 km, Paraguay 1,880 km, Uruguay 579 km

Coastline:

4,989 km

Maritime claims:

contiguous zone: 24 NM
territorial sea: 12 NM
exclusive economic zone: 200 NM
continental shelf: 200 NM or to the edge of the continental margin

Climate:

mostly temperate; arid in southeast; subantarctic in southwest

Terrain:

rich plains of the Pampas in northern half, flat to rolling plateau of Patagonia in south, rugged Andes along western border

Elevation extremes:

lowest point: Salinas Chicas -40 m (located on Peninsula Valdes)
highest point: Cerro Aconcagua 6,960 m

Natural resources:

fertile plains of the Pampas, lead, zinc, tin, copper, iron ore, manganese, petroleum, uranium

Natural hazards:

San Miguel de Tucuman and Mendoza areas in the Andes subject to earthquakes; pamperos are violent windstorms that can strike the Pampas and northeast; heavy flooding

Environment - current issues:

environmental problems (urban and rural) typical of an industrializing economy such as deforestation, soil degradation, desertification, air pollution, and water pollution
note: Argentina is a world leader in setting voluntary greenhouse gas targets

Geography - note:

second-largest country in South America (after Brazil); strategic location relative to sea lanes between the South Atlantic and the South Pacific Oceans (Strait of Magellan, Beagle Channel, Drake Passage); Cerro Aconcagua is South America's tallest mountain, while the Valdes Peninsula is the lowest point on the continent
Population of Argentina
Population:

40.482 million (July 2008 est.)

Age structure:

0-14 years: 25.8% (male 5,341,642/female 5,095,325)
15-64 years: 63.5% (male 12,807,458/female 12,884,745)
65 years and over: 10.8% (male 1,784,652/female 2,568,176)

Median age:

total: 29.7 years
male: 28.8 years
female: 30.8 years

Growth rate:

0.938%

Birth rate:

17.19 births/1,000

Death rate:

7.57 deaths/1,000

Net migration rate:

0.61 migrant(s)/1,000

Infant mortality:

14.73 deaths/1,000 live births

Life expectancy at birth:

total population: 76.36 years
male: 73.11 years
female: 79.77 years

Total fertility rate:

2.16 children born/woman

Nationality:

noun: Argentine(s)
adjective: Argentine

Ethnic groups:

white (mostly Spanish and Italian) 97%, mestizo, Amerindian, or other nonwhite groups 3%

Religions:

nominally Roman Catholic 92% (less than 20% practicing), Protestant 2%, Jewish 2%, other 4%

Languages:

Spanish (official), English, Italian, German, French

Literacy:

definition: age 15 and over can read and write
total population: 97.1%
male: 97.1%
female: 97.1%
Government
Country name:

conventional long form: Argentine Republic
conventional short form: Argentina
local long form: Republica Argentina

Government type:

republic

Capital:

Buenos Aires

Administrative divisions:

23 provinces (provincias, singular - provincia), and 1 autonomous city* (distrito federal); Buenos Aires, Buenos Aires Capital Federal*, Catamarca, Chaco, Chubut, Cordoba, Corrientes, Entre Rios, Formosa, Jujuy, La Pampa, La Rioja, Mendoza, Misiones, Neuquen, Rio Negro, Salta, San Juan, San Luis, Santa Cruz, Santa Fe, Santiago del Estero, Tierra del Fuego - Antartida e Islas del Atlantico Sur, Tucuman
note: the US does not recognize any claims to Antarctica

Independence:

9 July 1816 (from Spain)

National holiday:

Revolution Day, 25 May (1810)

Constitution:

1 May 1853; revised August 1994

Legal system:

mixture of US and West European legal systems; has not accepted compulsory ICJ jurisdiction

Suffrage:

18 years of age; universal and mandatory

Executive branch:

chief of state: President Cristina FERNANDEZ DE KIRCHNER (since 10 December 2007); Vice President Julio COBOS (since 10 December 2007); note - the president is both the chief of state and head of government
head of government: President Cristina FERNANDEZ DE KIRCHNER (since 10 December 2007); Vice President Julio COBOS (since 10 December 2007)
cabinet: Cabinet appointed by the president
elections: president and vice president elected on the same ticket by popular vote for four-year terms (eligible for a second term); election last held 28 October 2007 (next election to be held in 2011)
election results: Cristina FERNANDEZ DE KIRCHNER elected president; percent of vote - Cristina FERNANDEZ DE KIRCHNER 45%, Elisa CARRIO 23%, Roberto LAVAGNA 17%, Alberto Rodriguez SAA 8%

Legislative branch:

bicameral National Congress or Congreso Nacional consists of the Senate (72 seats; members are elected by direct vote; presently one-third of the members elected every two years to a six-year term) and the Chamber of Deputies (257 seats; members are elected by direct vote; one-half of the members elected every two years to a four-year term)

Judicial branch:

Supreme Court or Corte Suprema (the nine Supreme Court judges are appointed by the president with approval by the Senate)
Economy
Argentina benefits from rich natural resources, a highly literate population, an export-oriented agricultural sector, and a diversified industrial base. Although one of the world's wealthiest countries 100 years ago, Argentina suffered during most of the 20th century from recurring economic crises, persistent fiscal and current account deficits, high inflation, mounting external debt, and capital flight. A severe depression, growing public and external indebtedness, and a bank run culminated in 2001 in the most serious economic, social, and political crisis in the country's turbulent history. Interim President Adolfo RODRIGUEZ SAA declared a default - the largest in history - on the government's foreign debt in December of that year, and abruptly resigned only a few days after taking office. His successor, Eduardo DUHALDE, announced an end to the peso's decade-long 1-to-1 peg to the US dollar in early 2002. The economy bottomed out that year, with real GDP 18% smaller than in 1998 and almost 60% of Argentines under the poverty line. Real GDP rebounded to grow by an average 9% annually over the subsequent five years, taking advantage of previously idled industrial capacity and labor, an audacious debt restructuring and reduced debt burden, excellent international financial conditions, and expansionary monetary and fiscal policies. Inflation, however, reached double-digit levels in 2006 and the government of President Nestor KIRCHNER responded with "voluntary" price agreements with businesses, as well as export taxes and restraints. Multi-year price freezes on electricity and natural gas rates for residential users stoked consumption and kept private investment away, leading to restrictions on industrial use and blackouts in 2007.
GDP:

$526.4 billion

GDP growth rate:

8.5%

GDP per capita:

$13,100

GDP composition by sector:

agriculture: 9.5%
industry: 35.8%
services: 54.7%

Population below poverty line:

26.9%

Inflation rate:

3.7%

Labor force:

15 million

Unemployment:

16.3%

Budget:

revenues: $42.63 billion
expenditures: $39.98 billion

Electricity production by source:

fossil fuel: 52.2%
hydro: 40.8%
other: 0.2%
nuclear: 6.7%

Industries:

food processing, motor vehicles, consumer durables, textiles, chemicals and petrochemicals, printing, metallurgy, steel

Agriculture:

sunflower seeds, lemons, soybeans, grapes, corn, tobacco, peanuts, tea, wheat; livestock

Exports:

edible oils, fuels and energy, cereals, feed, motor vehicles

Export partners:

Brazil 15.8%, US 10.7%, Chile 10.3%, China 8.2%

Imports:

machinery and equipment, motor vehicles, chemicals, metal manufactures, plastics

Import partners:

Brazil 35.6%, US 16.6%, China 5.4%, Germany 5.2%

Currency:

Argentine peso (ARS)
SOURCES: The CIA World Factbook, U.S. Department of State
Copyright 2004 - 2008 worldfacts.us